The Saskatchewan Government today announced an investment of nearly $1.8 million in university research projects.
Innovation Saskatchewan's Innovation and Science Fund (ISF) investment will support five projects at the University of Regina and nine projects at the University of Saskatchewan.
"Each of the projects selected have the potential to benefit people across our province," Minister Responsible for Innovation Saskatchewan Tina Beaudry-Mellor said. "Our investment helps provincial institutions leverage additional project funding from other sources. In this case, that means an additional $3.4 million, bringing the total project investment over the next two years to nearly $5.2 million."
The Fund promotes research and development partnerships between post-secondary institutions, governments and the private sector. The ISF leverages federal research funding for Saskatchewan by ensuring that institutions are able to effectively compete in national research funding competitions.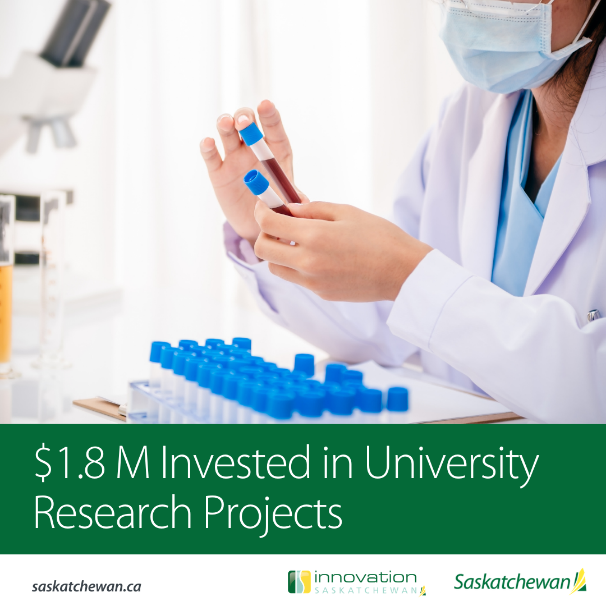 "The innovative ideas put forward by our outstanding researchers and their teams are world class," University of Saskatchewan Vice-President Research Karen Chad said. "It is impressive to see the creativity that is necessary, not only to compete for funding at the national level, but to find solutions for what are very complex scientific and societal problems the world faces."
"This investment from the Government of Saskatchewan gives our faculty members an opportunity to showcase their innovative ideas through their research projects," University of Regina Vice-President (Research) Dr. Kathleen McNutt said. It is great to see the diversity of the projects selected, which come from a variety of faculties and departments including Engineering, Biochemistry, and Kinesiology and Health Studies."
The Innovation and Science Fund is intended to promote excellence in research at Saskatchewan's post-secondary institutions and associated non-profit research institutes.
The federal funding partner for the university research and development projects announced today is the Canada Foundation for Innovation. Past projects have included partners such as Western Economic Diversification, Genome Canada, the Canadian Institutes of Health Research and others.
-30-
For more information, contact:
Ran Tao
Innovation Saskatchewan
Regina
Phone: (306) 798-3170
Email: ran.tao@gov.sk.ca
Mindy Ellis
University of Regina
Regina
Phone: 306-585-5422
Email: Mindy.Ellis@uregina.ca
Victoria Dinh
University of Saskatchewan
Saskatoon
Phone: (306) 966-5487
Email: victoria.dinh@usask.ca
Related Items: