The Government of Saskatchewan announced today it will commit $15 million to help develop new technologies in agriculture and position the province as a global leader in the agtech sector.
Through Innovation Saskatchewan, funds will be invested in a privately-managed fund targeted exclusively at agtech companies that require venture capital to develop past the startup phase and scale up their business operations and manufacturing.
"The proper support, combined with our strong research in agricultural innovation and the success of agtech startups, can make Saskatchewan a world force in agtech," says Minister Responsible for Innovation Saskatchewan Tina Beaudry-Mellor. "This investment will bring jobs and new growth to our province and equip farmers and producers with game-changing technology."
This investment will accelerate the province's economic recovery from COVID-19 and build upon a record year for venture capital investment in Saskatchewan. Deals worth $114 million were made in 2019, more than the previous five years combined, and most of those investments were made in Saskatchewan's tech sector.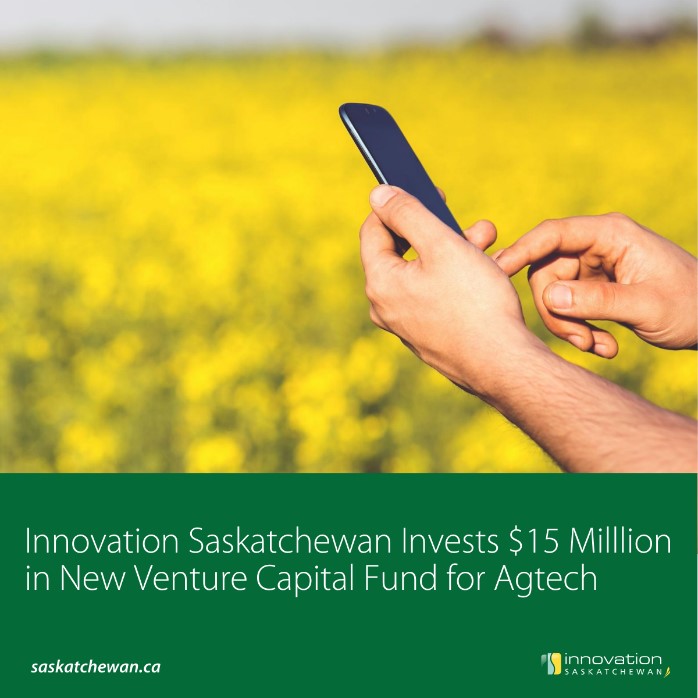 Once a partner is found, the $15 million investment is expected to leverage millions more from private investors, complementing Innovation Saskatchewan's existing programs which support agtech startups but are not designed to scale companies to full business capacity. Innovation Saskatchewan will issue a Request for Proposal (RFP) in the coming weeks to begin exploring fund options with the private sector.
"Saskatchewan is rising to the challenge of feeding a growing world population and innovation in agriculture technology plays an important role in meeting that growing demand," says Agriculture Minister David Marit. "This investment will ensure producers have made-in-Saskatchewan technology that supports their efforts to grow high-quality, sustainable food."
With global demand for food anticipated to rise 70% by 2050, Innovation Saskatchewan is helping farmers gain a competitive edge to meet the future by building upon a significant and historic economic driver.
The agency's new investment, combined with its Saskatchewan Advantage Innovation Fund, Saskatchewan Technology Startup Incentive and the $1 million Agtech Growth Fund announced in July, will work with the rest of the province's agricultural infrastructure to help stimulate the provincial economy, add value to Saskatchewan's agricultural products, and grow the technology sector – all important objectives in Saskatchewan's Growth Plan 2020-2030.
-30-
For more information, contact:
Scott Brown
Innovation Saskatchewan
Phone: 306-787-0355
Email: scott.brown@gov.sk.ca