With decades of experience in the technology industry, Diego von Sohsten and Mitchell Woodhouse Mckenzie noticed that fast-growing companies had a tough time keeping their teams engaged while also staying true to their core values. They created Teamworki to help high-growth companies scale their culture.
"Managers collect a lot of feedback from employees and learn project lessons, but what happens next?" von Sohsten shares. "A lot is said, but the problem is taking action on the feedback. It's challenging when managers are juggling a lot of different tasks."
Teamworki equips tech companies with tools to engage employees and take appropriate action on feedback. For managers, Teamworki is a one-stop-shop to measure team engagement and view employee comments and concerns. Through machine learning, Teamworki analyzes data from meetings and extracts insights that contribute to organizational KPI's.
"Is your team giving suggestions or completing action items?" von Sohsten asks. "Managers can see the top five words that their team is talking about and prioritize those things."
On the team and employee side, Teamworki is an avenue for sharing feedback with the confidence that someone is handling the action items. Employees are asked how they feel about a certain topic through the user-friendly platform via activities and surveys, which then provides managers with insights on morale and engagement.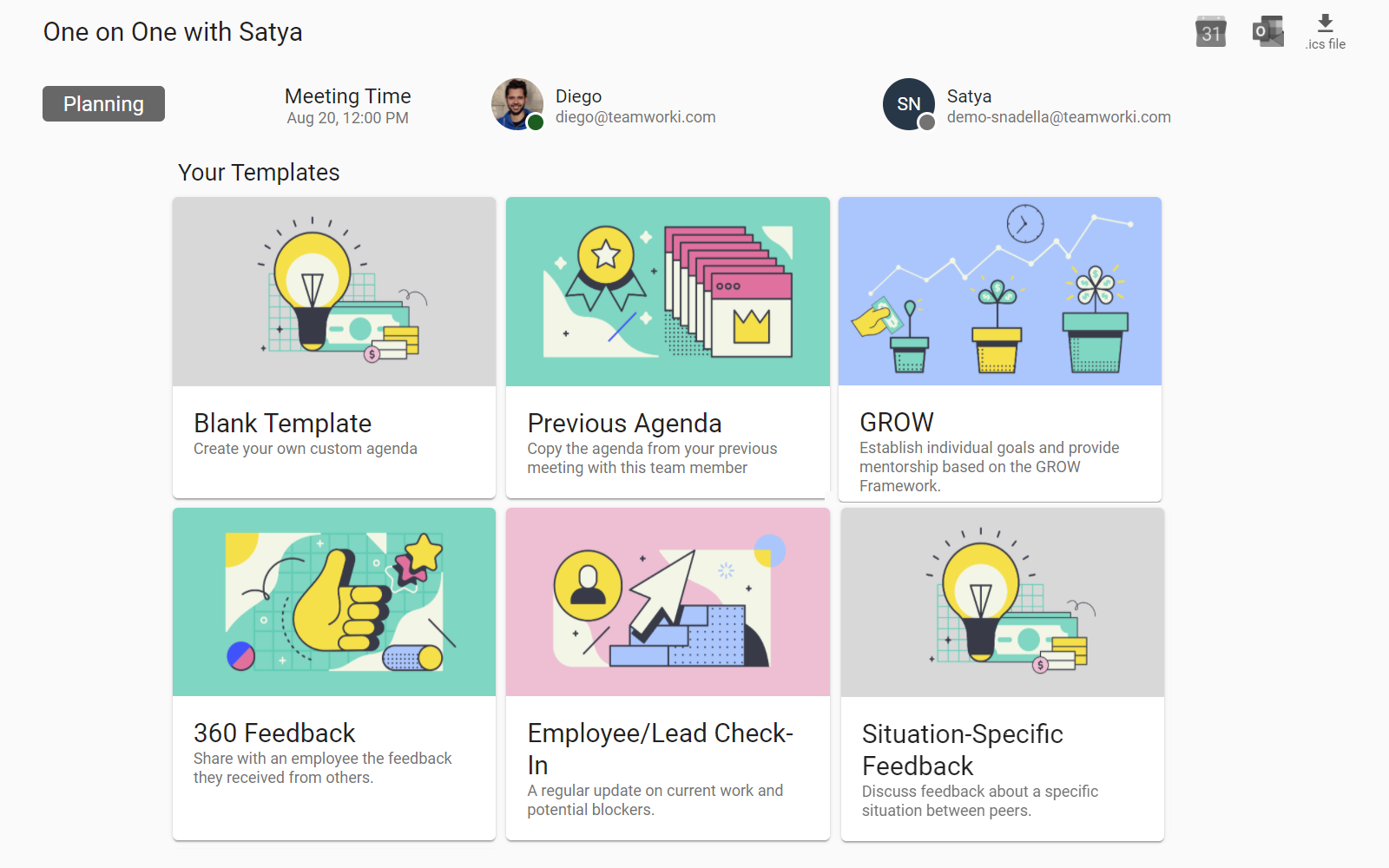 "Teamworki gives me peace of mind," says Eytan Anjel, a Frontend Team Lead at ReSci/Constant Contact. "As the lead of a remote team, I have visibility on team morale on a daily basis."
Teamworki integrates with Slack, Microsoft Teams, and Google Calendar, making it an easy platform to work with tech tools that teams are already familiar with. With user-friendly onboarding, it's a friction-free way to invite new users and get set up.
Although Teamworki primarily works with tech companies that have up to 250 employees, there are opportunities to grow into other segments with their HR-led processes. Companies in their Enterprise cohort—above that 250 employee mark—have adopted the platform, and Teamworki is working closely with managers who are utilizing the features. As a product-led experience, it usually starts with one team trying to solve a problem, then a second team will adopt it, followed by a third, then eventually the whole company.
"We've had over 60 engaged teams in the last month," von Sohsten says. "80% of teams are coming back for another session."
The team is working to prove product market fit within tech companies and scaling by product-led growth. "We want people to hear about us via word of mouth or because they've used it at another company," von Sohsten says. They plan to eventually expand into the enterprise segment and work with HR stakeholders.
The Government of Canada's National Research Council of Canada Industrial Research Assistance Program (NRC IRAP) funding has helped Teamworki with their growth, and they have secured a seat with Co.Labs—which is also where their office is. Through the involvement of Innovation Saskatchewan, Teamworki has been accepted into the Saskatchewan Technology Startup Incentive (STSI) pool, and they are an eligible company in the Made In Saskatchewan Technology (MIST) program.
von Sohsten and Woodhouse Mckenzie have been thrilled by the support they've received in Saskatchewan. People in the industry have been more than happy to help, and partnerships with Innovation Saskatchewan and Co.Labs have been a growth lever for Teamworki. "Some of the most engaged users come from the prairies," smiles von Sohsten. "Saskatchewan has people who are hardworking and empathetic, and the government has been very great at providing resources."
Founders: Diego von Sohsten (CEO) & Mitchell Woodhouse Mckenzie (CTO)
Incorporation Date: November 2019
Employees: 3