Biktrix
From building an electric bike in his home garage over six years ago, Roshan Thomas, Founder of Biktrix, now operates stores in two provinces (Saskatchewan & British Columbia), along with a large assembly facility in Saskatoon, and continues to expand through online sales across Canada, the US, and the UK.
Biktrix has a wide range of customers, including students, professionals commuting to work, and adventurous, thrill-seeking riders. Biktrix' main market, however, are those in their 50s and 60s who used to ride regular bikes frequently but cannot do so as much anymore. "Perhaps it's due to health reasons, or they've moved to a place with lots of hills or mountains, and they want to ride more, but they can't. Now, with an e-bike, it changed the game for them," Thomas adds.
The company sells an extensive selection of e-bikes that are moped-style, cruisers, commuters, mountain, and cargo. One of the many advantages of buying an e-bike from Biktrix is their ability to customize for customers.
Thomas explains, "If someone says they like a certain e-bike but don't like the handlebars, wheels, batteries, and more, we can customize them. We give them what they want. I believe that's what differentiates us from other e-bike companies."
Their collection features:
When the COVID-19 pandemic hit, the demand for Biktrix e-bikes soared as more people looked for activities to do by themselves. Thomas adds, "We've been very busy moving bikes out the door as the demand has increased quite a bit in the last couple of years!"
While Biktrix's success comes from their top-quality customizable e-bikes, excellent customer service, and knowledgeable team, they also benefitted from a supportive ecosystem. One of the many supports they have received is through the Saskatchewan Technology Startup Incentive (STSI), an aggressive angel investment program that offers a 45% tax credit to investors, by Innovation Saskatchewan.
"Our investors qualified for the STSI, which worked out really well for them and our company. It's a great program to motivate more investments in the startup community in Saskatchewan," Thomas shares.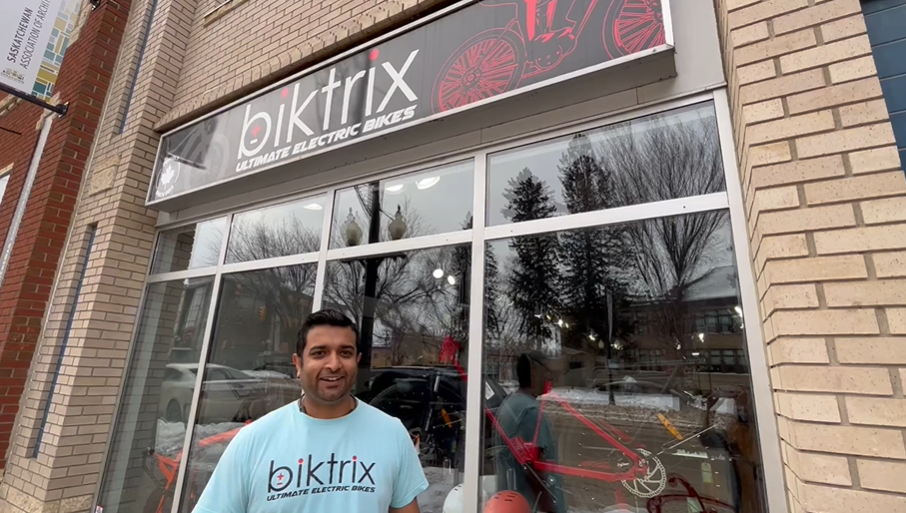 "But that's not all. We find that this province is a wonderful place to hire talent for my company. We were part of Co.Labs in Innovation Place and they were instrumental in helping us connect with more people that can join our team." Biktrix now has over 50 employees throughout Saskatchewan – a tremendous growth from being a four-person team back in 2015.
E-bikes for Cleantech – What's in the future?
Biktrix prides itself on creating products that are environmentally friendlier than other modes of transportation. E-bikes have also made it more viable for people to commute, which they otherwise would not do using regular bikes due to distance or other factors.
"We are a green company in a way that we take more cars out of the market and out of the roads. Our technology, along with the help of the Industrial Research Assistance Program (NRC IRAP) and Prairies Economic Development Canada (PrairiesCan), allows us to do that. With that, I see us growing our technology and our Biktrix product line to be the most advanced in the market a few years from now!"
Biktrix was included in 2021's Deloitte Technology Fast 500 List (Fastest-Growing Companies in North America), as well as the Cleantech Fast 50 in Canada.
The one piece of advice that Thomas could give to startups looking to join the ecosystem is to, "Get started. Find one customer who isn't your friend or relative that is willing to pay. If you can find that one customer, then there are likely more customers. Build the minimum viable product that will make that customer happy, sell it, and go from there."
Other Info
Establishment Year: 2014
Employee Count: 56
Social Media Channels:
Website: https://www.biktrix.ca/