North Star Systems
With the growing adoption of the Internet of Things (IoT), it was only a matter of time until it found its application in agriculture.
North Star Systems (NSS), established in 2015, develops hardware and cloud-based collaboration software that connects sensors with fuels, fertilizers, and granular products to the cloud, improving many facets of the agricultural sector. So far, they have collaborated with TELUS and SaskTel, as well as outsourcing sensor partners like WIKA and Rochester Gauges.
NSS focuses on the following solutions:
This solution utilizes real-time technology backed by data and data-driven analysis. It connects the sensor to the device (Tattle Systems hardware) and then the device to the user through any smartphone, desktop, or tablet from anywhere via Tattle Systems software. This creates an innovative, real-time controlled and remote monitoring and data solution.
The possibilities are endless with IIoT (Industrial Internet of Things) as they provide improved collaboration, enhanced decision-making, and increased profit in agricultural, oil & gas, and water & wastewater applications.
Jane Tu, NSS Research & Development Lead, explains, "We have customer end-to-end IIoT solutions with up-to-date technologies. Our device reads data from different sensors like pressure sensors, digital temperature sensors, and more, then calculates the physical value based on the data. After that, the node will send both the original data, the physical value, and other info to the cloud server instantly. Clients can then check real-time data via an online portal, app, and more."
Live Dispatch is an innovative solution software that enables clients to fully manage orders from their initial order, to fulfillment, and to invoice completion.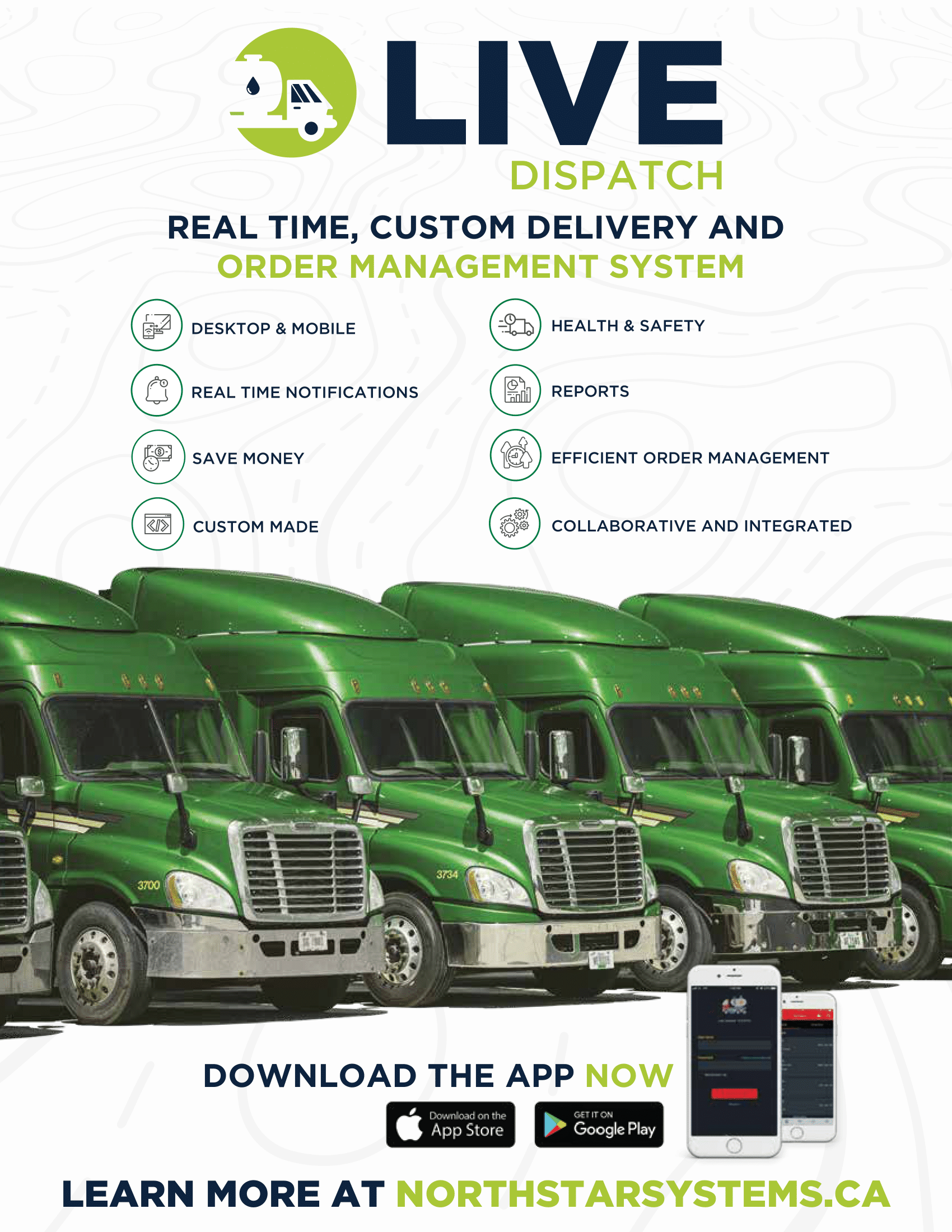 "It's specifically designed for companies that deliver fuel. If you see a tank truck on the highway, they are probably using Live Dispatch or is a potential candidate," Cristian Merli, NSS Full Stack Developer, shares.
It helps reduce missing dispatches and improve the scheduling of routes through the built-in map functionality. Anyone with permission can enter orders in the system, and the drivers are notified instantly every time they are assigned to a new dispatch.
What's New?
Over the last few years, North Star Systems has been developing a new solution called North Star Business Intelligence (NSBI), a unique collaboration between IoT/IIoT and BI (Business Intelligence)/AI (Artificial Intelligence) platforms. NSBI ingests and processes different sources of data and presents it in a simple dashboard. NSBI can visualize, report, and provide insights into data that will enable users to make better decisions on asset allocation, purchasing, and future resource requirements.
As NSS continues to develop solutions, several trends emerging in the tech and IIoT industry will enable the company to grow in many directions.
Tu shares, "Clients or companies now want big data to use for their strategy and decision-making. Agtech is also becoming more prominent. Farmers may need to start monitoring things like tank level, bin level, PH value, health status of their cattle, and more, which means we will need to implement more sensors and network technologies like LoRa and satellite."
"In a few years from now, I see NSS becoming the expert in agriculture hardware and software applications, working with a wide spectrum of customers, and expanding to areas that are not strictly ag-related," Merli adds.
North Star Systems is proud to be developing new and relevant technologies in Saskatchewan, creating efficiencies, and inspiring the way businesses serve their clients.
Other Info
Leadership/Founder(s): Aaron Serhan (Founder) | Curtis Kolibab (CEO)
Employee Count: 17
Social Media Channels:
Website: https://northstarsystems.ca/